Monday, April 29, 2013
Wednesday, April 10, 2013
Ned. In the FLESH #gosh #phew
Lovely delightful @RossiterBooks put us onto this #intel #coo If you're Herefordshire way, you can go to this on 31st May! You lucky lot. Make sure you give Ned a #manhug from us.
Monday, April 8, 2013
Sunday, March 24, 2013
Ned on the TELLYBOX! #gosh
@wegelius tweeted this little teaser of Ned in Corsica (thanks to @ondrive for the spot):
Very good! Not quite warm enough for #cutoffs, yet, sadly, but we're liking the jacket-slung-around-the-hips look #louche
Tonight, we sat down in eager anticipation of some #NedAction on ITV4. Our hopes were raised by early sightings of Ned, doing #seriousface perched on a rock while giving his lucky old KNEE a cuddle #wow #cuddle #contrastcollar
We were disturbed by the tiny bat making its way up Ned's collar, though. Could this explain his absence in the rest of the programme? #vampire
Wednesday, March 13, 2013
Tuesday, February 19, 2013
Ned gave a TALK at Walton-on-Thames! #gosh #PA #powerpoint #laserpointer And of course, the INBFC massive were there in FORCE to support him. Lovely and talented @Laurie_king from www.opencreative.co.uk let us borrow his picture of Ned contemplating his lectern, above #wow #notes. According to EVERYONE Ned's talk was TERRIFIC. Of course! What would you expect? Afterwards some key INBFCers got UP CLOSE AND PERSONAL with Ned #wow #cuddle including @LulhAndy (below) and @Ewbles (below below).  #FanWithTheMan Very good, chaps!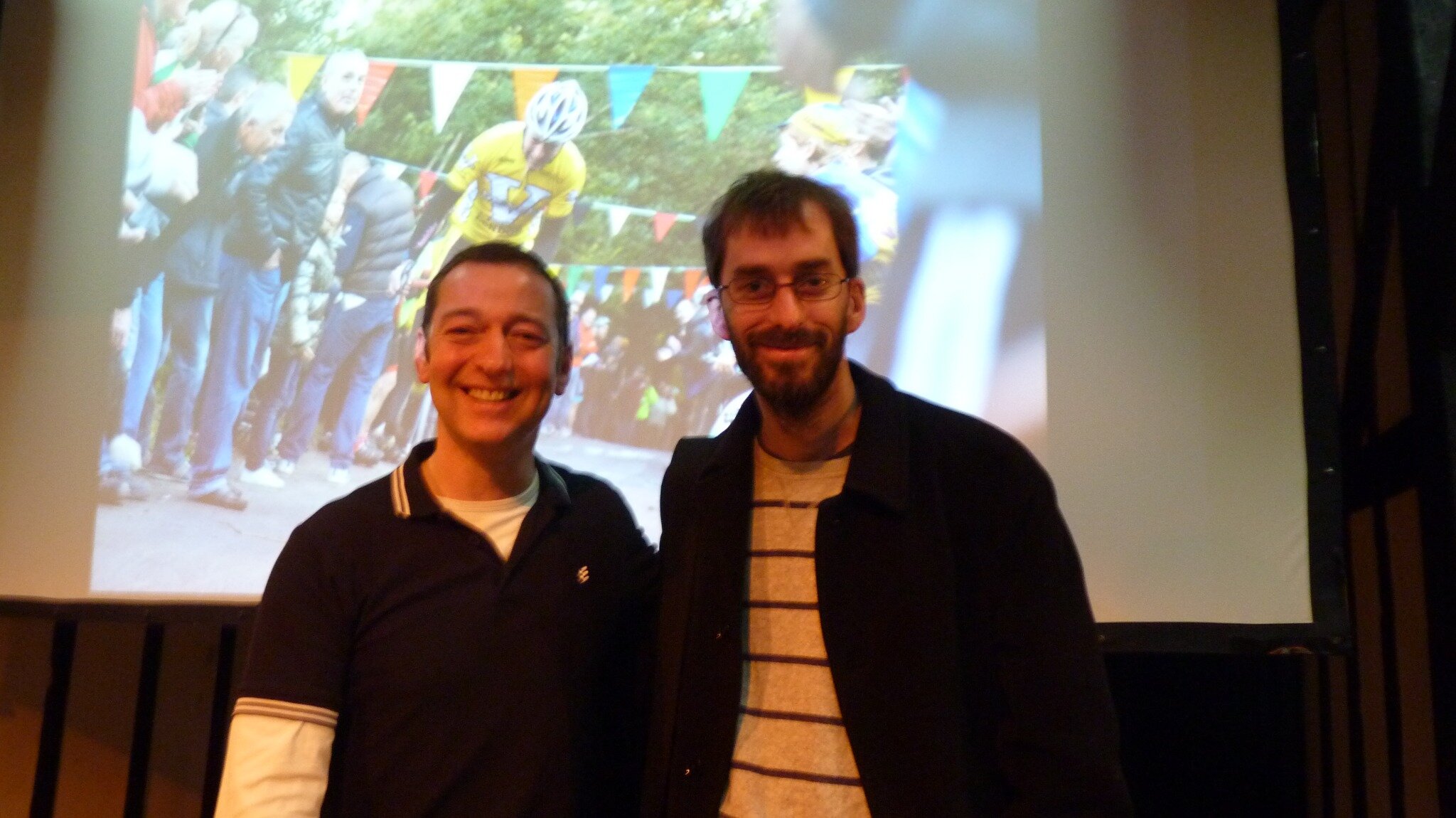 Friday, February 8, 2013
Revolution!
We've been sadly bereft of #NedAction over the last few months, but Revolution came along just in time to save us from moroseness and general lackadaisiality. Here's Ned with @cyclingweekly writer and generally all-round smokin' HOT esteemed cycling news personality Sophie Smith #gosh #blimey Sophie ALMOST manages to drag our attention from swoonworthy creases around Ned's eyes and delightful #micwielding action #profile shot. Below, Ned appears with two perennial favourites among INBFC members, Lizzie Armitstead and Ed Clancy #coo #chops #gingereyelashes #golly
Saturday, January 12, 2013
Follow the link for details of Ned's next outing #gosh #interactive #audienceparticipation Knowing our luck, it'll be sold out already. But hey. If you're down there, worth a try, eh? Give Ned a massive INBFC #manhug for us.
Wednesday, January 9, 2013
Interview with Ned in Revolution programme!
Well. We were all #sadface, because there is #NoNed on tonight's Revolution #bah. But then lovely stalwart INBFCer @SimoneWarner alerted us to this interview with Ned in the Revolution programme from last Saturday. Ned gets all excited about stuff, so we do, too. Of course. 
In the meantime, here's a picture of Ned from last year's Revolution, to keep you going. That's better, isn't it #aaaah
Sunday, December 30, 2012