Monday, June 24, 2013
Monday, June 17, 2013
Last night of the @TourSeries!
Matt and Ned were out in their FINERY for the Tour Series finale in Ipswich! 
Ned went for #understatedstyle with a subtle linen mix #traditional though linen is notoriously difficult in the heat #dangerous We think Matt narrowly swung this one in his favour with daring deployment of #stripes and #cardi #metrochic
Soon, however, Ned was back doing what he does best: #micwielding and #profile with just a hint of #greyingtemples and swoonsome #laughterlines. Golly! #golly
The end of the Tour Series is no laughing matter, of course. Several tears were shed in the INBFC office over the end of this particular era. Happily, Ned and Matt mirrored our mood with a touch of #seriousface. Until Pov started catching champagne corks, at least #ouch
Wednesday, June 12, 2013
The @TourSeries goes to Woking!
Woking is mostly famous for being the place where Martians landed in War of the Worlds, the birthplace of the Jam, and for not being Wokingham (where most of the INBFC's Distant Relations live). #WokingFacts However, tonight Woking was famous for being the venue for all sorts of UTTERLY EXCITING bicycle-related action!
Not only did Hannah Barnes show everyone how to be NAILS, but Ned's sartorial choices demonstrated a welcome return to form with #openneckedshirt, #subtlechecks and the ever-popular #MiniMac (TM) #stylish #practical #slimming:
Ned's looking sunkissed and relaxed, we reckon. All this relentless book-touring is obviously doing him good, as the waves of #NedLove from adoring fans rejuvenate his complexion. Not to be outdone, Matt was sporting a groovy new haircut:
He looks a little resigned in this photo, however. It's hard not to in the face of Ned's masterful wrap-up performance #HandInPocket #micwielding #seriousface
Wednesday, May 29, 2013
@Tourseries in Torquay!
Finally! The #dreamteam are back together. @RealStephens and Ned meet for a #knitwearoff on a suitably genteel park bench.
Ned even donned his #MiniMac (TM) and gave us a bit of #micwielding and #profile while interviewing the perennially lovely Deano #golly #twoforone
In #YetMoreNed, our hero interviewed Team Boyzone, sorry, Team UK Youth, in full #profile. No #NedsNose for Century TV! We love them.
Finally, @RealStephens gave Ned a run for his #MiniMacMoney in one of his many stylish @vulpinecc garments. The Ferris wheel glowed, the sea shimmered, and we went to bed happy #happy #gosh
Monday, April 29, 2013
Sunday, March 24, 2013
Ned on the TELLYBOX! #gosh
@wegelius tweeted this little teaser of Ned in Corsica (thanks to @ondrive for the spot):
Very good! Not quite warm enough for #cutoffs, yet, sadly, but we're liking the jacket-slung-around-the-hips look #louche
Tonight, we sat down in eager anticipation of some #NedAction on ITV4. Our hopes were raised by early sightings of Ned, doing #seriousface perched on a rock while giving his lucky old KNEE a cuddle #wow #cuddle #contrastcollar
We were disturbed by the tiny bat making its way up Ned's collar, though. Could this explain his absence in the rest of the programme? #vampire
Tuesday, February 19, 2013
Ned gave a TALK at Walton-on-Thames! #gosh #PA #powerpoint #laserpointer And of course, the INBFC massive were there in FORCE to support him. Lovely and talented @Laurie_king from www.opencreative.co.uk let us borrow his picture of Ned contemplating his lectern, above #wow #notes. According to EVERYONE Ned's talk was TERRIFIC. Of course! What would you expect? Afterwards some key INBFCers got UP CLOSE AND PERSONAL with Ned #wow #cuddle including @LulhAndy (below) and @Ewbles (below below).  #FanWithTheMan Very good, chaps!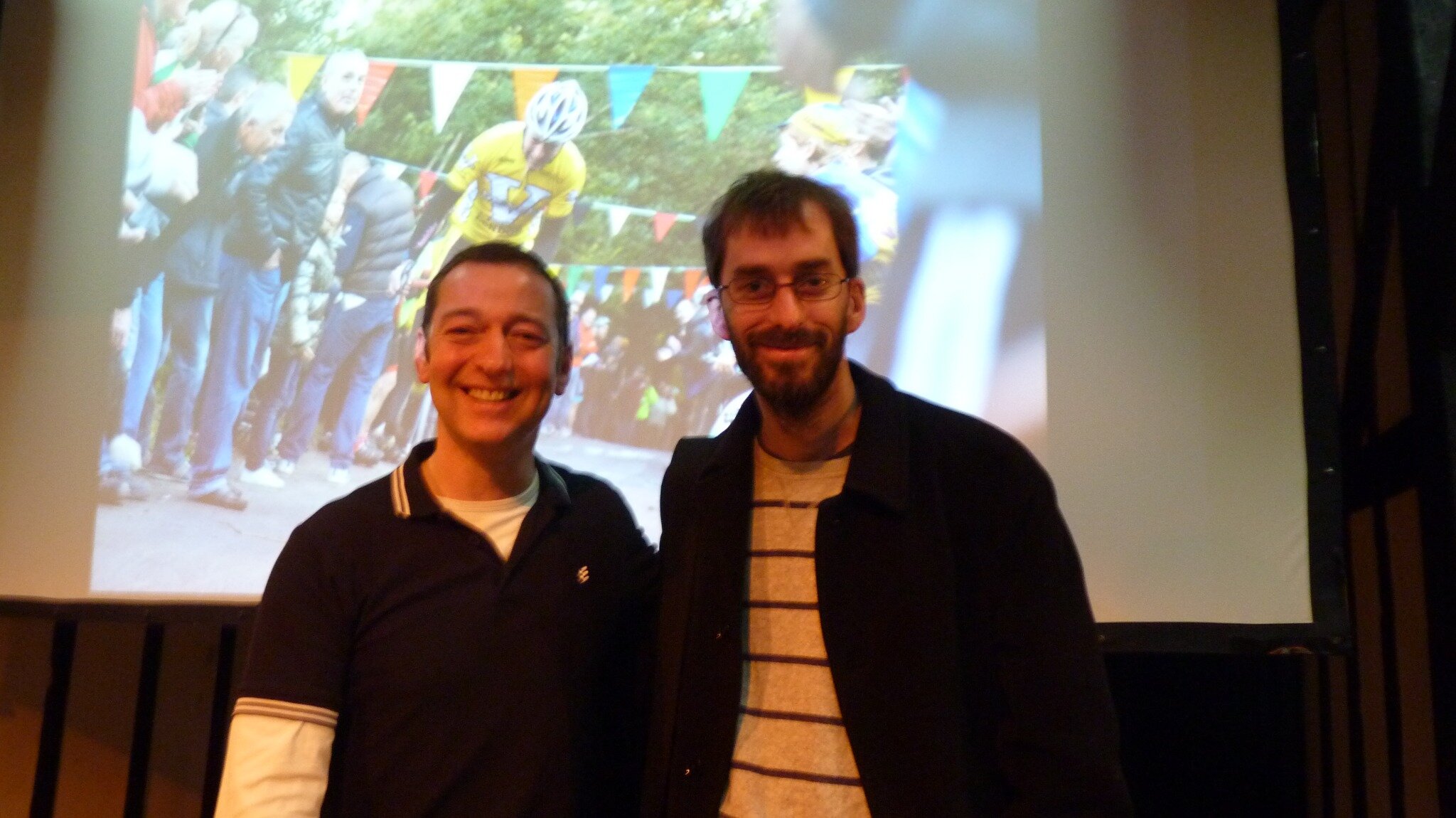 Friday, February 8, 2013
Revolution!
We've been sadly bereft of #NedAction over the last few months, but Revolution came along just in time to save us from moroseness and general lackadaisiality. Here's Ned with @cyclingweekly writer and generally all-round smokin' HOT esteemed cycling news personality Sophie Smith #gosh #blimey Sophie ALMOST manages to drag our attention from swoonworthy creases around Ned's eyes and delightful #micwielding action #profile shot. Below, Ned appears with two perennial favourites among INBFC members, Lizzie Armitstead and Ed Clancy #coo #chops #gingereyelashes #golly
Saturday, January 12, 2013
Follow the link for details of Ned's next outing #gosh #interactive #audienceparticipation Knowing our luck, it'll be sold out already. But hey. If you're down there, worth a try, eh? Give Ned a massive INBFC #manhug for us.
Wednesday, January 9, 2013
Interview with Ned in Revolution programme!
Well. We were all #sadface, because there is #NoNed on tonight's Revolution #bah. But then lovely stalwart INBFCer @SimoneWarner alerted us to this interview with Ned in the Revolution programme from last Saturday. Ned gets all excited about stuff, so we do, too. Of course. 
In the meantime, here's a picture of Ned from last year's Revolution, to keep you going. That's better, isn't it #aaaah